5 Tips to help your media sosial marketing
Are you struggling to keep up with your social media marketing tasks?
Looking for ways to increase productivity?
Incorporating a few changes into your social media marketing can help simplify processes, improve efficiency, and free up your time.
In this article you'll discover eight tips to help busy social media marketers be more productive.
5 Tips to Help Your Social Media Marketing
#1: Focus on the Platform With the Highest ROI
Treat social media like the business activity it is. Use the simple principle of return on investment (ROI) to decide where to spend your time. If a certain social platform is giving you zero ROI, it may not be worth your time. You want to focus on the platform that does have a strong ROI.
Ideally, you should track your numbers and make sure you're looking at all angles of the equation. For example, you should also identify customer lifetime value (CLV) channels with the highest ROI.
What does this look like from a tactical perspective? The exact methods differ depending on your analytics and reporting, but here are the main points to keep in mind:
Compare conversion rates across all of your social media channels.
Perform a side-by-side comparison of conversion rates and channel cost.
Pick the single social channel that has high conversion rates and high ROI.
Increase your efforts and expenditure on that single platform.
This simple awareness can save you hours of time in your social media marketing.
#2: Use Social Media Management Tools
It almost seems unnecessary to say because most people are already doing it: If you're not using social media management tools, it's time to start. It's hard to know just how much time you'll save by using a tool, but suffice it to say that it's likely hours per week. You can choose from a variety of popular social media postingtools like Buffer, Socialoomph, andHootsuite.
#3: Reuse Old Posts
If you had great engagement from a social media post in the past, use it again. You're probably thinking, "Won't this annoy people?" Probably not. The half-life of tweet isn't very long, so if you're posting the same tweet twice in a week, month, or even a day, it probably doesn't matter much. Even if others retweet you, the duration is not very long.
You can use tools like Buffer andEdgar to repurpose and repost old social media posts. Here's a glance into how Edgar works. You canorganize your content using filters, set up your queue, and let your social media repurposing go.
#4: Create a System for Curating and Scheduling Content
The key to saving time on social media is developing systems that are organized, repeatable, and habitual ways of doing something. As long as your system is streamlined and scalable, you can be more productive in less time.
Collecting content that you want to share is a good example. If you don't have a system, this process could take hours.
Just using a system is more important than which system you use. For example, use Chrome extensions to keep your most important tasks a single click away. You can also click Buffer's extension twice to save and schedule any piece of content to social media.
You can create systems for every aspect of your social media life. Here's an example:
Use Feedly as a source for gathering content.
Set up the automatic integration ofPocket with Feedly to add articles to your curated list with a single click.
Set up IFTTT to automatically send articles you favorite in Pocket to your Buffer queue.

Collect a group of stories that will appeal to your audience.

Comb through the stories you've collected and remove content that doesn't apply to your target audience.
This is a look at the kind of micro-categorization that you can use on Feedly.
Using a system like this will require some work on the front end, but it can save you tons of time later on.
If you try this hack, be sure to look for the best time-saving IFTTT recipes. You'll find a variety of methods for creatively and productively getting your social media system in place.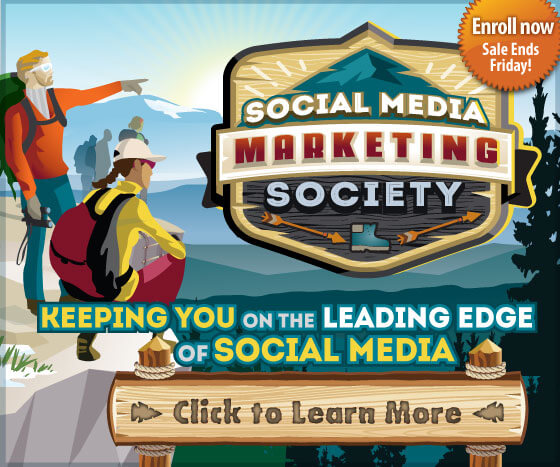 #5: Share to All of Your Social Accounts at Once
Do you use multiple social media platforms? Instead of going to each account and posting content, post the same content everywhere with a single click.
Here's how you can do it with Buffer's plugin. Find an article you like, and click the Buffer button in your browser.
Make sure all of your accounts are selected and then click Add to Queue.
In the image above, the share is queued up for eight separate accounts on three different platforms. You can then customize the times, appearance, and frequency with your social media management tool.